Regular price
$69 CAD
Sale price
$45 CAD
Unit price
per
Sale
Sold out
CYBER MONDAY SALE

All Biking Glases 35% Off
Free shipping on orders over $50

Free gift included with orders over $75 ($20 value)
Discount automatically applied at checkout
Highlights

Photochromic lens adapts to sunlight
Rubberized nose pad is soft and comfortable
Frame is made from Impact resistant polycarbonate
Ultralight +/- 34g
What's included

Trail Boss Photochromic Biking Glasses
Durable protective case
Soft cloth case
Microfiber Cleaning cloth
Shipping & Returns

Free Shipping On Orders Over $50

Canada
Standard - 2-9 Business Days
Express - 1-3 Business Days
United States
Standard - 4-9 Business days
Tracking included
Return unused within 30 days for cash refund
View full details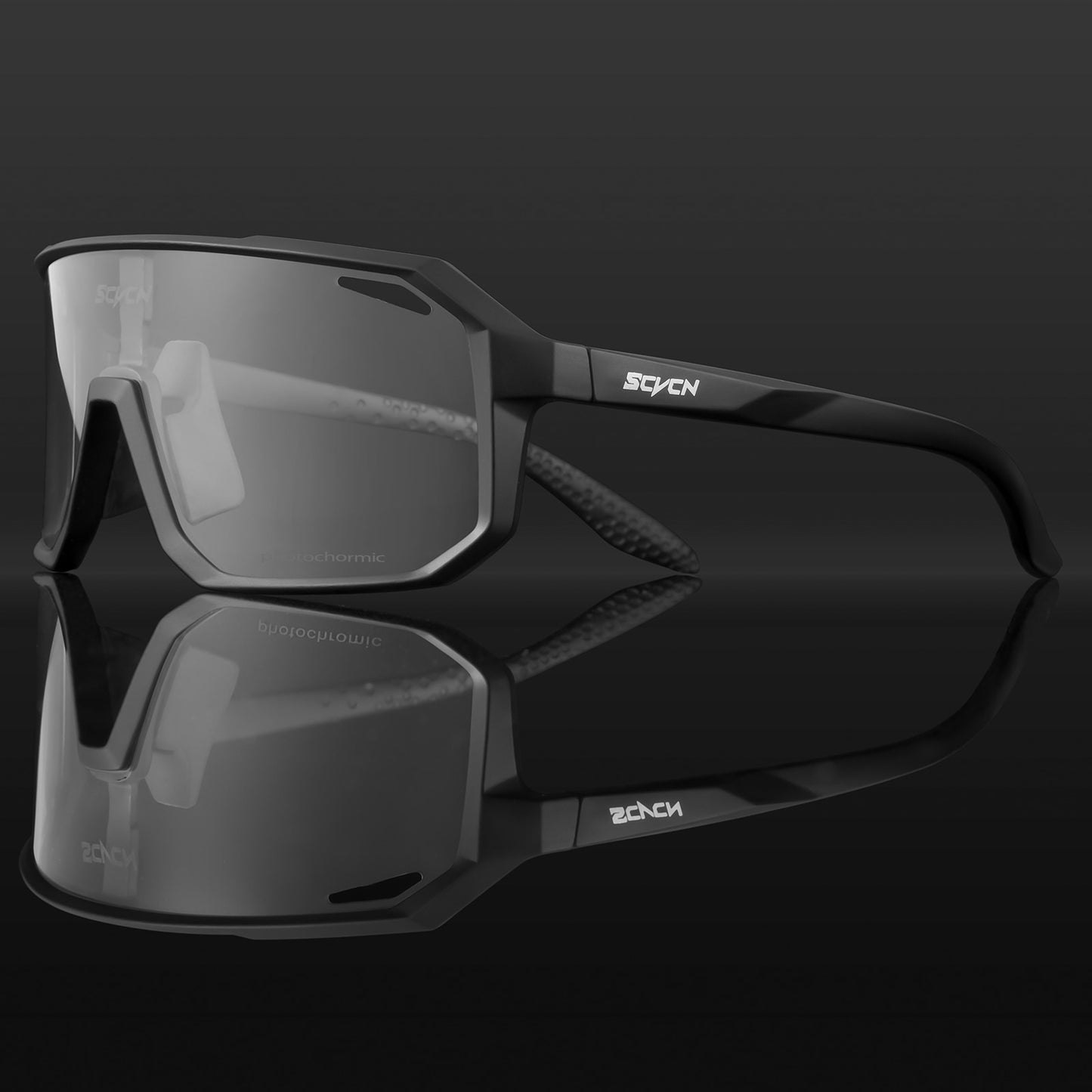 One Pair To Rule Them All
Keep the mud, wind, and ran out of your eyes so you can send it all winter long!
The lens is clear in the dark forest and at night
It also tints in the sunlight
So you only need 1 pair of glasses to ride all year
Cutting edge speed holes in the corners of the lens increase airflow which keeps the fog away
Made from impact resistance polycarbonate and thermoplastic rubber, these glasses are reliable
They come in a durable case designed to be thrown in riding backpack or hip bag
Every pair also includes a soft cloth case, and lens cloth
The glasses feel comfortable and stay in place on the rowdy descents and fun sends.
We wear them ourselves and know you'll like them too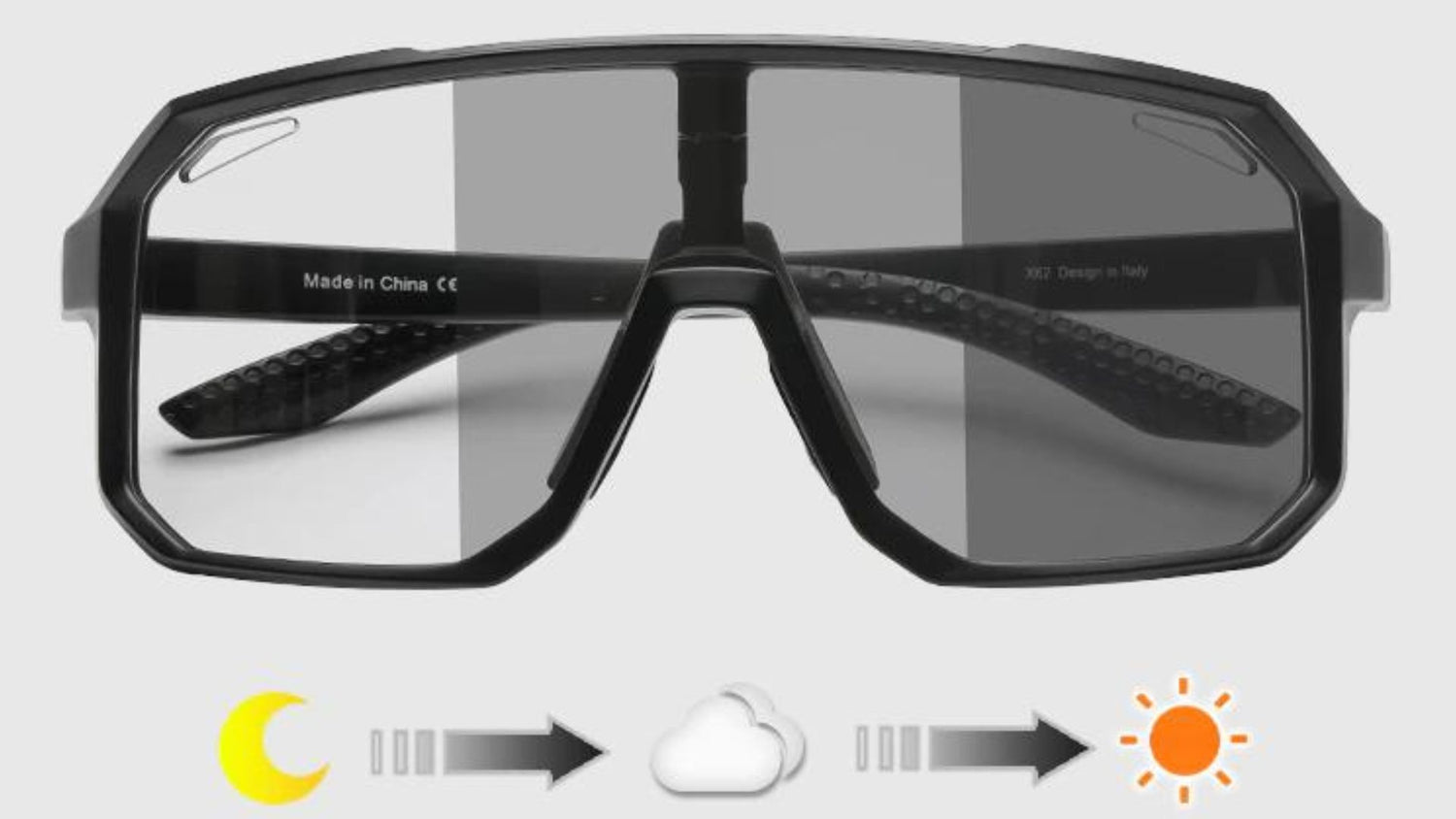 The photochromic lens goes from clear to tinted in the sun
So you only need one pair for riding all year
Features
Thick Rubber Nose

The nose pad is made from a grippy rubber that feels soft and keeps the glasses in place on rowdy rides

Anti-Fog Speed Holes

That's right,
The speed holes aren't just for aesthetics,
They actually increase airflow to the inside of the lens to minimize fog
This is great when you are sweaty, the forest is wet, and the loam is perfect
Perfact! They don't fog up, fit great!
Great price
Nice and breathable. No fogging up and keep the face kewl. Pinch a little on the back of the stem under my helmet. I recommended already to a friend.
Get what you pay for
Solid glasses overall especially considering the price. Photochromatic qualities are questionable at best but the fit and functionality are solid. All in a good step up from safety glasses but a step down from premium photochromatic glasses. You get what you pay for.
Thank you for your honest feedback. We appreciate your assessment of the glasses, considering their price. While the photochromatic qualities may not meet your expectations, we're pleased that you find the fit and functionality solid. Your feedback helps us improve, and we're here to assist you further if needed.
Great glasses
So far so good!!! Great fitting and don't even know they are on my face. Airflow is good.
I have recommended them to other and they are ordering a pair.
Thank you sincerely for your uplifting review! We're thrilled to hear that you're enjoying the glasses and find them comfortable and lightweight. Your recommendation to others means the world to us, and we're delighted that they are now ordering a pair based on your positive experience.
Happy Trails,
Kat
A Square Deal
These glasses fit the bill, literally. They won't break the bank and they perform well. I have used them in both cloudy and sunny days, and I'm so glad I bought them. Didn't fog up at all like other riding glasses I own. At one point in a recent ride I forgot I was wearing them. Great style and my peripheral vision is much better. Please keep them stocked. Thanks again!!! 1000 Epics for the win.
Hey John! Thank you for the glowing review!! We are stoked that you are stoked with the Trail Boss biking glasses.
Live Epicly,
Ryan
The 1000 Epics Guarantee
Canadian Customer Support

We are gear and adventure nerds too and we love to chat. Send us a message and we'll get back to you within 36 hours or we might get back to you asap through the Shop app

Carbon Neutral Shipping

We use the Planet app to clean up our carbon footprint. The planet app has kick started demand for carbon credits from innovative startups that are actually sequestering carbon for a minimum of 1,000 years.

Learn more

Hassle-Free Returns

Simply log in to your account by verifying you email to initiate a return within 30 days of delivery

Items must be returned in original condition
Frequently Asked Questions
How dark does the lens get?

The photochromic lens tints when it's exposed to the sun. Since they are meant for mountain biking in and out of the forest, the tint it not super dark. A typical pair of dark sunglasses will have a darker tint than the lens of the Trail Boss Photochromic Biking Glasses but this much tint is not optimal for mountain biking in the forest
Why use a photochromic lens for mountain biking?

You ride through changing weather conditions for most of the year in the Pacific NorthWest. So it's good to have a lens that is clear when it's dark in the forest and tints when your ripping through clear cuts and cliff edges.
Why not use a photochromic lens?

The lens transitions slower in cold weather. Most noticable on clear cold winter days on Vancouver Island. If your trail is in and out of the forest, the glasses can feel over-tinted when you get back in the forest
What about night riding

The lens only tints when exposed to sunlight. So they work for night rides
Photochromic or polarized?

Both are good in different conditions

The photochromic lens is good value because it's good for riding all year

Polarized lens is better on sunny days in the summer
What about adding a perscription lens?

Not yet,

Please let us know if you are interested,

We will look into it if we get enough feedback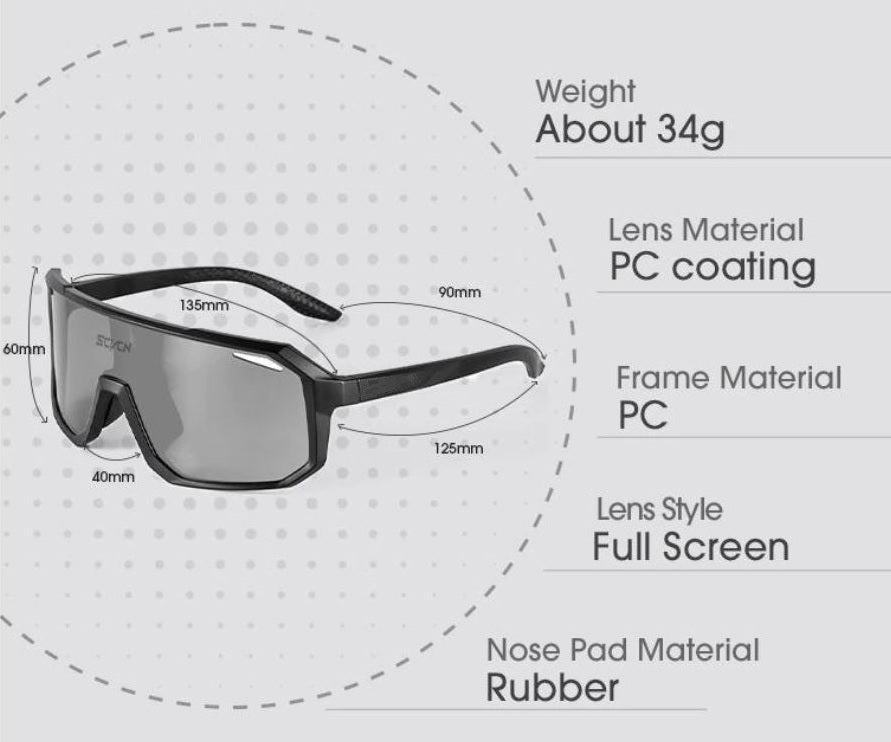 Stats
Dimensions:
Arms 125mm
Width at ends: 90mm
Width at lens: 135mm
Height at lens: 60mm
Inner nose width 40mm
Brand: SCVCN
Weight: ~34g
Lens Material: PC coating
Frame Material: PC
Lens Style: Full Screen
Nose Pad Material:
Rubber